Ready Pine tongue and groove paneling.
For over a decade, Horizon Coatings Inc. has been manufacturing Ready Pine tongue and groove paneling using state-of-the-art machinery to produce a perfect factory finish. Ready Pine is available in traditional V-match and contemporary Shiplap (Nickel Gap) profiles in 6" and 8" widths.
Request Sample
---
Pre-finished panels
Our superior fit end-matched panels come pre-finished and sealed on the back to prevent warping.
No more messes
Choose from variety of factory applied stains and say goodbye to drips, runs and odours.
Easy installation
Just install and you're done. It's fast and easy with less waste for faster project completion time.
---
Profile Choices
While both profiles use a tongue and groove system, our V-Match profile features a "V" shaped slot between each panel. Our Shiplap (Nickel Gap) profile features a channel between each panel. The depth of the channel is 1/8" and the width is 1/8" for 6" wide panels and 1/4" for 8" wide panels.


End Matching
Unique to Ready Pine is our end-matching, which saves you time and money, as well as greatly improves the fit and finish of your project. The ends have the same bevel as the sides. With T&G on the ends, there is no need to splice over a stud or joist. When you get to the end of a row, take the off-cut back to the beginning to start the next row. Installation time is greatly reduced since you don't need to measure, cut and dress each end. Waste is also less since you won't be creating short off-cuts.

Premium Finishing
We stain the wood with over 10 different translucent colour options. This process draws out the natural features of the Lodgepole Pine species by enhancing the grain structure and knots. A low sheen topcoat is then applied to give the final product a silky smooth, furniture grade quality finish.
The backs are also sealed to help prevent cupping and warping. And the tongues are stained too – this is important because if they are not, as the pine expands and contracts slightly through the seasons, the tongues will show the raw white wood and touch-ups would be required each year.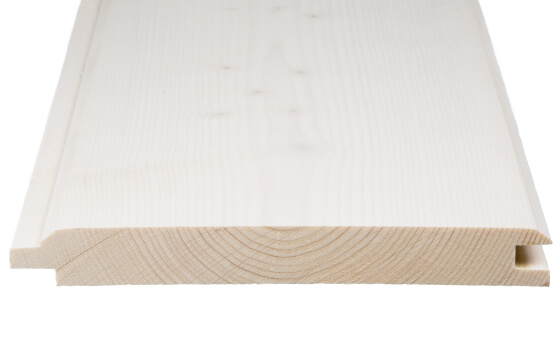 Natural Beauty
Ready Pine is available in 12 stain colours that each bring out and enhance the look of the wood. The colours are translucent, which allows the wood grain and knots to show through. Ready Pine is also available in a clear finish that does not alter the natural colour of the wood, but allows it to mellow over time, giving it a rich, warm character that only quality wood can offer. They are all top coated with the same clear finish as the natural colour, giving it a smooth professional look. Some colours offer a more traditional look, while others are more contemporary.
All colours are available in both the V-match and Shiplap (Nickel Gap) profiles. Colours may not be exactly as shown. Refer to colour samples from your dealer for colour matching.
Frequently Asked Questions
The exposed face widths for both V-Match and Shiplap profiles are 5" (1x6) and 6-¾ (1x8)" (see drawing for additional details). The thickness is 5/8". The lengths are random: 10, 12, 14 & 16' long. We also offer 8' lengths for in store purchase.
No, you cannot specify a set length and should expect to get some of each length in your order – except 8' lengths – these can be specified.
Ready Pine is usually a custom order and you get exactly what you need to cover your space – so there isn't a set quantity of Ready Pine – it's whatever your project needs.
We minor bundle 6 pieces of the same length together and place them face inwards, so the pack is protected. Smaller bundles like this make carrying Ready Pine into your project very handy. We package the bundles into a lift of lumber to be carried on a truck or trailer. The lift is 4' wide x 16' long and the height depends on how much you order but is typically never more than 2'.
Yes, as the pine is exposed to UV light – even indirectly, like a ceiling – the colour will change. The amount of UV exposure will make a large difference. Ready Pine in the same room will behave differently on the ceiling than on a wall exposed to direct UV light. Natural changes the most and will drift to look like Golden Pecan in a few years. Ipswich and Puritan will darken slightly and Early American, Autumn Pine, Red Oak and Mocha don't really change at all because the pigments are darker. Seagull, Beige, Bennington and Westcott have UV inhibitors in them to hold their colour, but in 5-10 years they too will change slightly. Pickled Pine turns slightly yellow/beige over time. Unfortunately, the colour change is not preventable and not unique to Ready Pine. If you apply stains yourself, these changes will still occur. So embrace the change that only the sun and time can give! MDF Cloud White does not change at all.
We use Premium Select Tight Knot Lodgepole Pine.
Ready Pine is mostly used in recreational properties and many of these are not heated in the winter. The pine will contract a bit in the winter, but this isn't a problem. Three season cabins are totally fine.
Yes, if it's for a porch/portico ceiling or soffits. No, for exterior wall siding or horizontal surfaces like decking.
It's sold through building supply centres. Visit your local store and ask for Ready Pine. If they are not familiar with our product please reach out to us at info@readypine.com or 519-669-8830. Some retailers may not have it on their website since it's often a job lot order at the lumber desk. If you can't find it on their website, contact the store directly for pricing and delivery.
Yes, best practice is to place Ready Pine in the space you will install for 7-10 days prior.
Some of our colours are our own (Pickled Pine, Nightfall, Seagull, Beige, Bennington, Westcott, Autumn Pine, Mocha and Cloud White). These you can order touch up stain when you order Ready Pine. Other colours we've match to MinWax brand stains (Golden Pecan, Ipswich, Puritan, Early American and Red Oak). For these you can purchase MinWax brand. Clear coat Natural is just clear so any brand of clear topcoat low sheen will work. You will need to apply a clear coat over any of our stains or MinWax stains to complete the trims project.
We recommend 5%. With the end-match feature there's no need to cut back each piece to splice over a stud or joist. As well, at the end of a row the off-cuts are used as the starter piece for the next row. So, in theory, your waste is zero.
Yes, this is no problem provided there is adequate ventilation and water is not allowed to remain on the pine such as lining a shower.
Your choice. Horizontal is more traditional like a log cabin. Vertical is more contemporary and makes the room look taller. Horizontal can be installed directly onto the studs. WIth vertical, you will first need to fasten furring strips every 16" and then fasten the Ready Pine to it.
Yes, you only need a few tools and a bit of common sense and you can install Ready Pine – chop saw, air nailer, measuring tape and a ladder are all the tools you need. It's easier to do than drywall.
Yes - we use water-based stains (except Pickled, Beige, Seagull and Bennington). Our topcoat is cured by UV light so there is no VOC off-gassing.
It's best practice to install Ready Pine at 16" centres. If your joists are more than this, strapping should be installed first. The concern is there are just not enough fasteners to hold the panels on the ceiling – especially if insulation is placed above adding additional weight. This concern is the same with any pine panel install - not just Ready Pine. You can install 2 courses of strapping - one perpendicular to the joists and one parallel at 16" centres. Alternatively, you can install one course at a 45% angle to the joists at 12" centres, which gives you 16" centres when you install Ready Pine. If you decide to install at more than 16" centres, test the hold of the panel first to satisfy yourself that it is strong enough.